This is a Sponsored post written by me on behalf of Revlon for SocialSpark. All opinions are 100% mine.
Hi all!
As you may have read I had to take some time off to deal with personal issues, but now I am back.  So I thought I'd come back with something fun, and what better way to do that than with makeup!  I've done a tutorial before with products some of you may not know about, but this time it features Revlon products, and I know you've heard of Revlon, right?
Last week I had to opportunity to review a couple of Revlon products, including an eye shadow palette and one of their lipsticks.  I've used a few Revlon products in the past and still use their nail polish, so being able to try these out was fun!
Here is what I received…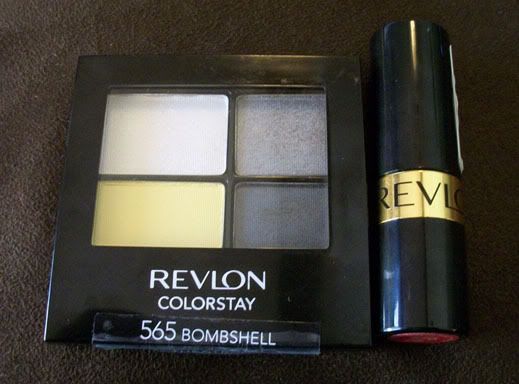 Revlon Colorstay 16 hour eye shadow palette, in Bombshell
Revlon Super Lustrous lipstick, in Fire & Ice
I must say when I first opened the lipstick I was slightly shocked because 1. I don't wear lipstick, and 2. I am not a red person- at all!  So when I saw it I thought "Oh My!"  But after I applied all the makeup and added the lipstick, I liked it.  I feel that red is one of those classic colors that can really make you pop, and stand out from the crowd.  Well to get started with the tutorial, I decided to go with the way it says to apply the eye shadow on the back of the case.  And here is how it went…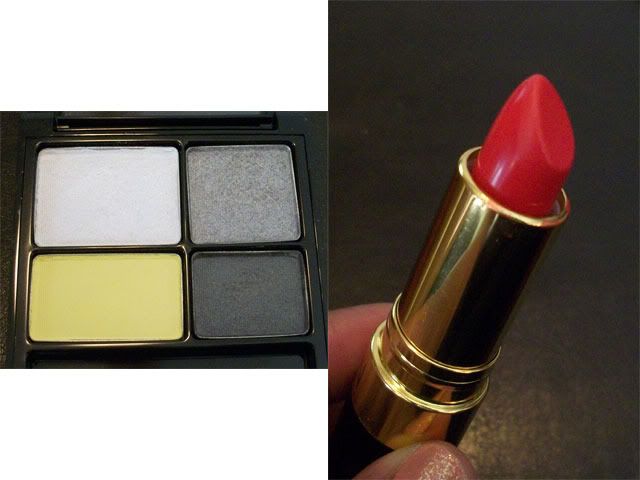 -The lightest shade is the "highlight" color, and I brush that over my entire eye and onto my browbone.
-The light gray shade is the lid color, and I brushed it over my lid up to my crease.
-The yellow shade is the accent color, and I put that in the outer corners of my eyes, the case says this is to "create drama."
-Last, the darkest shade is the contour or crease color, and I applied it to just my crease.
Here is the look that resulted from those guidelines…
Sounds simple, right?  Well it was super simple, and came out pretty great.  Looking at myself in these pictures and then in some other iPhone pictures later in the day, it almost seemed like the color got more intense over time.  I know when I first applied it I did not think that the shadows were very pigmented, but after seeing myself in a different light I realized the were.  Except for the yellow, I thought that it needed to be a little brighter to stand out on my skin.  But one someone else it may pop!
Here is the look with the very red lipstick…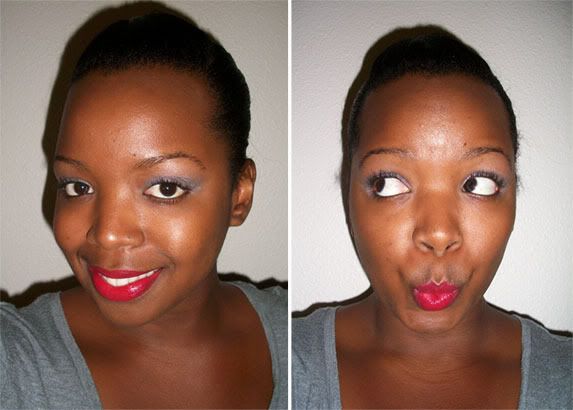 Don't you love it?  I loved it!  So now about how the makeup lasted.  The eye shadow say "16 hour," and I think I might agree with that.  I didn't wear it quite 16 hours, but I did wear it for a significant length of time.  The shadows lasted very well, and did not seem to crease.  I did however us a eye primer (revlon has a makeup primer as well) before I applied the shadow.  I've found that primer allows for smoother application, and the shadow seems to stay in place.  As for the lipstick, it was light, smooth, and didn't feel cakey on my lips.  I can't stand when I have heavy stuff on my lips, so this lipstick was nice.  It did seem to smudge and wear off at times if I accident touched my lips against something.  And that made it look faded after a while.  But when I first put it on I liked it, and it gave my lips a little shine!
I can say that I'd recommend both of these products to at least try, you might like them.  It's a great time to do it, since Revlon is doing an "Expression Experiment" right now.  And with that they are encouraging women to "prove that beauty is anything but routine."  They want women to try something new and step outside their comfort zone.  I can say I definitely did that with this look, especially with the hot lips!  I think it's fun to try something new every once in a while, and I think I may ever do a red lip again…gasp!
You all can join in on the Revlon Expression Experiment yourselves, by visiting the link and clicking "get started."  It's a Facebook app that let's you view monthly makeup challenges, see what others are doing, and also join in on the action.  It's a tool that can be used just for fun, and it may even supply those of you that are bloggers a project to do every month.  All in all, I had fun doing this and would gladly try a new style each month.
I hope you enjoyed my first post back.  Let me know in a comment what you thought about my look, and I'd love to see your own looks that fit your style!
Until next time…